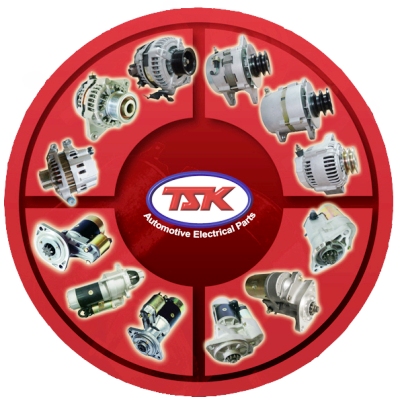 Welcome to T.S.K. AUTOMOTIVE CO., LTD.
T.S.K. Automotive is a company dedicated to providing automotive electrical parts fast at the most competitive price. We ensure that the parts you receive have the best possible quality in the industry.
Our products are all manufactured to the highest standards, using state of the art manufacturing equipment and techniques. Many of our products have become the industry standard for innovative design and exceptional quality.
Because we are the manufacturer, we are able to offer our customers precisely what they needed: quality product, personal service and dependable on-time delivery.
Your supplier for different automotive electric parts: Starter, Alternator, Timer, Regulator, Rectifier, Flasher, Safety Relay, Brush Holder, Carbon Brush, Starter Gear, Connector, Solenoid, Housing, etc.
| | |
| --- | --- |
| Company Name : |  T.S.K. AUTOMOTIVE CO., LTD. |
| Office Address : |  29/31-32 New Uruphong RD., Rongmuang, Patumwan, Bangkok, 10330   THAILAND |
| Tel : |  (662) 613-7719-21, (662) 215-6930, (662) 215-9410, (662) 215-3197 |
| Fax : |  (662) 216-6316 |
| Email : | This email address is being protected from spambots. You need JavaScript enabled to view it. |
| Website : |  www.tskautomotive.co.th |
| Factory Address : |  72/6 M.3 Chengrakyai, Samkok, Patumthani, 12160 THAILAND |
| Tel : |  (662) 975-0738-9 |
| Fax : |  (662) 975-0739 |
| Established : |  14th December 1985 |
| Board of Director : |  Mr.Kitisak Phinyocheep, Managing Director |
| Contact Persons : |  Mrs.Jarintip Phinyocheep, Marketing Manager |
|   |  Miss.Naphatsorn P, Int'l Business Manager |
| Employees : |  150 skilled persons |
| Share Holders : |  THAI 100% |
| Sales Proportion : |  Domestic : 60%, Foreign : 40% |
| Type of Business : |  Manufacturer / Exporter / Importer / Distributor / Wholesaler |
| Main of Business : |  Automotive Electrical Parts and Accessories |
| Main Product : |  Starter and Alternator |
|   |  Parts of Starter : Housing, Safety relay, Starter solenoid, Gear |
|   |  Parts of Alternator : Regulator, Rectifier, Brush Holder, Brush, Bracket |
|   |  Electrical Parts : Timer Relay, Flasher, Fuse box, Horn, Switch, Terminal |
|   |  Accessories : Headlamp, Battery Clip, Windscreen Washer etc. |
| Main Export Market : |  Asia Pacific, Australia, U.S.A., Middle East |
| Company brand name : |  TSK |
| Standard : |  Thailand Brand No. AU0081/07, ISO 9001:2000 |
| Association Membership : |  Department of Export Promotion (DEP) No. 01000436 |
|   |  The Federation of Thai Industries (FTI) |
|   |  No. 2060 Date : 25/11/2002 |
|   |  Thai Auto-Parts Manufacturers Association (TAPMA) |
|   |  No.208/1 Date : 26/07/2000 |